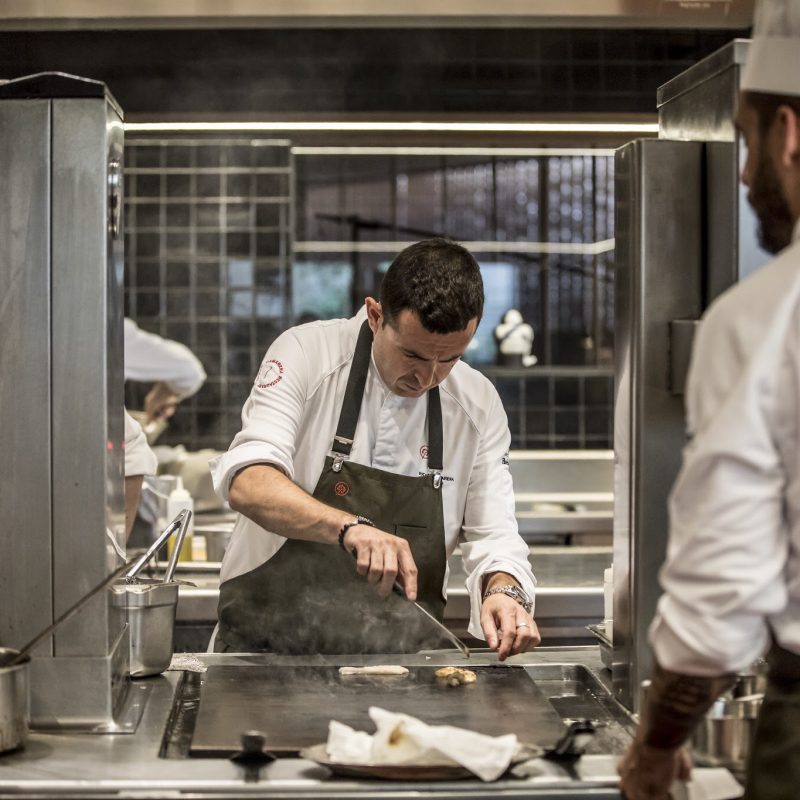 Biography
Scores for recipes
A restless and passionate chef, Ricard Camarena gave up one of his early obsessions—music and his trumpet—to dedicate himself fully to cooking. He traded in scores for recipes, musical compositions for gastronomic ones, playing in a band for cooking in a team.
When he opted for the stove full time, taste was something that was not up for discussion. Ricard Camarena was equally uncompromising on other aspects like, for instance, total respect for seasonal produce. And another of his top priorities is to ensure that his customers always feel welcome and at home.
This successful combination of taste, freshly sourced produce and excellence in service won him a Michelin Star three times (Arrop, Arrop Valencia and Ricard Camarena Restaurant) and three Repsol Suns for his 'Ricard Camarena Restaurant'. And he was recognized as the National Gastronomy Award as "best chef" by the Spanish Royal Academy of Gastronomy.
Besides his flagship restaurant, Camarena is also behind Canalla Bistro and its changing eclectic and cosmopolitan menu; Central Bar, which exclusively uses 'kilometre zero' products from Valencia's rightly famous Central Market where it is located; Ricard Camarena Colón, a special space for private events in Mercado Colón, a refurbished art nouveau market building; and Ricard Camarena Lab, a mix of a R&D laboratory and cookery classroom, also in Mercado Colón.
Ricard Camarena in Dates
2001
After graduating he decided to lease the restaurant at the swimming pool in Barx, a small town with a population of one thousand people near Gandia (Valencia). This is where he started to forge his own style, experimenting with traditional recipes from Valencia and its fresh local produce.
2004
Three years later, after building up a loyal clientele and an increasingly more personal style, he and his wife María Carmen Bañuls decided to take the plunge and set up their own restaurant in Gandia called Arrop, opening on 1 October.
2005
Thanks to the hard work, enthusiasm and energy of Ricard and his team, the restaurant quickly made its way into Spain's foremost guides.
2006
The definitive recognition arrived in January when Arrop was named Best Newcomer at Madrid Fusión, Spain's leading annual gastronomy event.
2007
Camarena was named Best Chef by the Valencian Gastronomic Academy and won his first Michelin Star for Arrop. This year he also opened the restaurant FUDD in Valencia; an 'outlet' for his flagship restaurant Arrop.
2008
Camarena's reputation grew apace and he won several awards (Best New Restaurant by Bodegas Gandia Pla and Best Gastronomic Contribution of the Year from Cartelera Turia). This year he began hatching his plan to move Arrop to Hotel Marqués de Caro, a sixteenth-century palace then under refurbishment in the city of Valencia.
2009
Arrop Ricard Camarena opened to the public on 1 October 2009. Over the next three years it received numerous awards, including a Michelin Star in 2010 and three Repsol Suns in 2011.
2012
Ricard Camarena closed Arrop in February to concentrate on his latest project, Ricard Camarena Restaurant located in the Ruzafa district in Valencia. The new restaurant opened at the end of July. Just three months later he had already received a Michelin Star, a record time for this guide, which it stills holds today along with three Repsol Suns and many other awards. In August 2012 he opened Central Bar, in Valencia's historic Central Market. Later, in October, Ricard Camarena opened Canalla Bistro around the corner from his restaurant in Ruzafaa.
2013
On New Year's Eve, Camarena opened Ricard Camarena Colón in the beautifully refurbished Mercado Colón. Divided into two different areas, this new space caters to corporate and private events.
2014
In February Ricard Camarena opened Ricard Camarena Lab by Muñoz Bosch also in Mercado Colón. This is where he does his investigation and experiments alongside members of his team. At the same time, this space is also equipped for use as a classroom for cookery workshops. And since July 2014 Canalla Bistro now has a bar area at the entrance, Canalla Bar, with a well selected cocktail list.
2015
In September HABITUAL opened on the lower floor of Mercado de Colón, showcasing Ricard Camarena's most Mediterranean side with a menu lending special emphasis to locally-sourced produce.
2016
In summer 2016, Ricard Camarena, in conjunction with Grupo Presidente, opened Canalla Bistro Mexico in the district of Polanco in Mexico City, offering a more eclectic version of his cuisine adapted to local tastes and to tourists visiting the city.
2017
In June Canalla Bistro Madrid opened in Platea, Europe's biggest gastronomic and leisure centre. Ricard Camarena has adapted the Canalla menu for Madrid, adding some Mediterranean dishes to satisfy Madrileños and tourists visiting the city. On 15 June the new Ricard Camarena Restaurant opened at the Bombas Gens art centre in the city of Valencia.
2018
2018 was an extraordinary year for Ricard Camarena. Last November he obtained the most desired award, a second Michelin Star for his restaurant Ricard Camarena. Earlier that year he was awarded with the 'Best Creative Cuisine Restaurant' prize by Salsa de Chiles. Ricard Camarena got the 11th position world wide at the "Smart Green Guide" thanks to the vegetable cooking techniques and the important part vegetables play on his dishes. Last December he was chosen "Best Foreign Chef" at the Italian guide Identità Golose.
2019
Ricard Camarena was recognized as the National Gastronomy Award as "best chef" by the Spanish Royal Academy of Gastronomy.
Descubre →